Flexible Accordion Type Shield
P.A.= Open length B = Outside width
P.C.= Closed length a=Outside height
Stroke =Open length - Closed length x=Fold height
Formula for calculating the CLOSED LENGTH
AP =一Opening of 1 fold=(x·2)-8
SM =Fabric thickness *
SS =Stiffener thickness *
SF =Flange thickness *
NP =Number of folds =P.A./AP+2
P.C.=(SM.8+SS)*NP+(SF*·2)




Example :
Data:Fold height=15mm
open Iength =1000mm

opening of 1 fold = ( 15×2 )-8 =22
一Nomber of 1fold =1000/22+2 = 48

Closed length =(0.25*×8+1*)×48+( 2***×2 )
Closed length=3×48+4=148
Closed length =148mm

We hypothesize the fabric material with code "TEMAT015"(see materials list on page 10)

We hypothesize that the stiffener is 1 mm thick.

We hypothesize that the flange is 2 mm thick.

This data sheet shoes only one type of Thermic-Welded Cover that we manufacture.

Contact our engineering department for other types.
Possible shapes for main parts of mucti-purpose shield
The following is the multi-purpose shields that can be used forany types of machine or tools thanks to their various shapes and space -saving design
Shield sizes for high frequency welding
Design parameters for flexible accordion guide shieed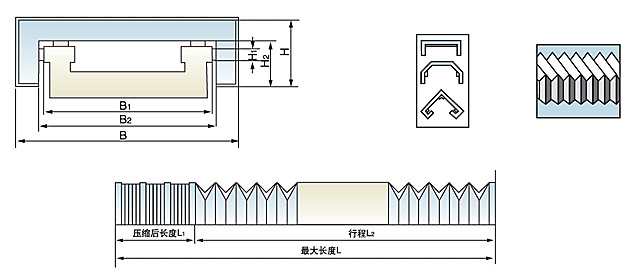 Code

DescriPt ion

Data

Remarks

Shield Coustructionmaterisls

L

Ength atter drawing

plus malerial

Nylon cloth or proteotive cloth

L1

Length atter compression

Support

PVC Sheet

L2

Travel length

Connectingplate

Resin plate 、 iron plate

B

Total width of the Shield

Pulley

Copper or nylon bearing

B1

Guide wldth

-

B2

Interior Width oftheshield

Mschine tool model nUmber

-

H

Total height of the shield

By pur chase order

-

H1

Guide height of the guide

Contact person

-

H2

Interior Width Oftheshield

Contact tel

-

Note : 1 . The enduser select the materials and data mentioned above when place an order and we will make the design and fabrication .

2 . If endusers have special reguirements , please lef us know and we can achieve for them .

3 . Pleasce fill in a form per type of shield .
INFORMATION ON THE HOSITING PLATFORM

PLATFORM DIMENSIONS
Upper side
T1 =table width
T2 =table length
T3 =frame height
Lower side
T4 =table width
T5 =table length
T6 =frame height
opening
P.A. =Open length
Open length
PC.=Closed length

CHARACTERISTICS OF BELLOWS DURATITE

X

AP

PCP

Malerial

Colorr

Reference code

38

55

10

PVC/PU
PVC/PU

yellow / Black
Black

DM -PU -G
DM -PU -N

67

100

10

PVC PVC

Yellow/ Black
Black

DM - PU -G
DM -PU -N

89

125

10

PVC

Yellow/Black

DM -PU -G
BXECUTION WITH THERMIC-WELDED BELLOWS TYPE QL-RETT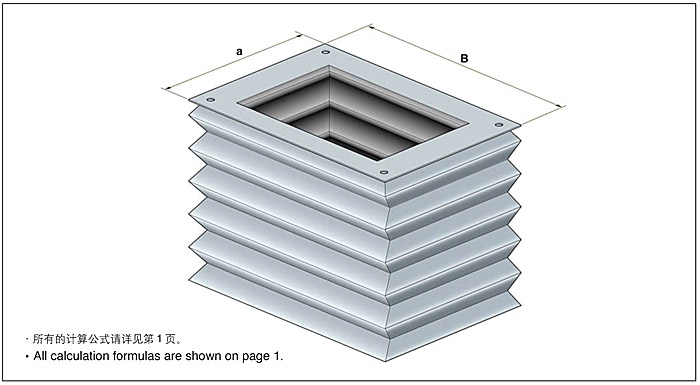 Shielding folding cloth
Dloth can be made upon user's requst

Data for dustproof cloth

| | | | |
| --- | --- | --- | --- |
| Code | Description | Data | Nylon leather |
| B1 | Holedis | | Kesin |
| B2 | Width | | |
| B3 | Height | | - |
| L | Lenght | | - |